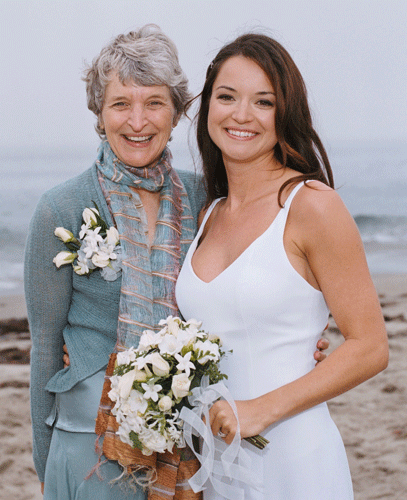 I lost my Mom to cancer when I was 35. On the 5th anniversary of my Mother's death, my brother brought to my attention (while he was setting a World Record!) that I had yet to address my grief or loss of her. I realized that I needed to start looking at what I had been hiding from.
Her ashes sat in my closet for over 5 years. I always felt guilty knowing they were there and I hadn't done anything with them. She deserved so much more but, I hadn't found what felt right, so there she sat.
While on  a medical leave from work the solution came to me! I decided to have her ashes placed in a bead. This would allow me to create bracelets incorporating the ash bead so that I could have her with me at all times. I searched to find someone who could create the beads and this led me to an amazing artist named Jody. We started talking and I learned that she too had lost her mother when she was 18. I felt connection with her and knew she was the right fit for my project. I started making the bracelets and got such a sense of peace having a part of my Mom with me at all times.
I started sharing my journey about what I had created with others who had also experienced a loss. Through this I realized how I wasn't alone in the challenge of figuring out what to do with a loved ones ashes. I saw that I could help people through my creation.
I started Beadloved ™(patent pending) due to the loss of my Mother with the hope that through this creation that I can help others who has lost a loved one, including their pets. I have struggled through my journey of loss and grief. I know this journey will be different for each and everyone of us. My wish is that through my creation and sharing my story with others that I can reach others and hopefully bring them some comfort like it has brought me.
Thank you for letting me be a part of your journey
– Casey